Hello!! My name is Amy Watson. As the new LOTM Church Administrator, I am excited to learn all about the church and meet the church family. This opportunity will be a great blessing to me.
Originally from Houston, TX, I just moved to Leadville a few weeks ago (in May) from Corpus Christi, TX. Living in the mountains is very different from living at the beach, and both are wonderful. However, the mountains have been calling me for a while, and I am thankful to be able to see them everyday now.
As a trained Public Historian, learning all of the rich history of Summit and Lake Counties is a dream for me. There is so much amazing history all around me, and I cannot wait for the museums and historical sites to open so I can learn more. Aside from visiting historical buildings and sites, my favorite activities are to read, journal, hike, discover new music, travel, sit by the water, and meet new people.
I have been involved in church one way or another my entire life, and l love to serve. I have been a member of a singing choir and handbell choir, taught VBS, and led praise and worship. As a former member of an intercessory prayer team, I know the importance of praying for and serving the church. I am here to help you and the Lord of the Mountains Lutheran Church family, and I look forward to meeting each of you.
Thank you for this opportunity!!!
Amy Watson
__________________________________________________________________________________________
Lord of the Mountains Church is very excited Amy has accepted this position. Learn more about her outstanding qualifications...
Education
Amy earned her Bachelor of Arts and Master of Arts in History at Texas State University - San Marcos, and she has done work toward a Master of Science in Counseling at Texas A&M - Corpus Christi.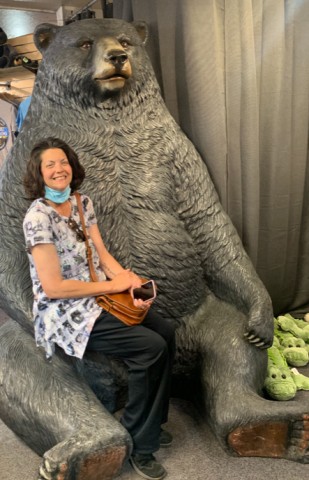 Professional Background
Amy's most recent position before moving to Colorado was Director, Student Support Services - Texas A&M University in Corpus Christi where she managed two programs simultaneously - one supporting 160 and one supporting 120 students. She was an advisor and beloved counselor to students as well as her peers on staff. Before going back to school for graduate studies, she was a Home Supervisor at Shiloh Treatment Center, Manvel, TX.
Professional Skills Highlights (too many accomplishments to list all here!)
As Director at TX A&M, Amy hired, trained, and supervised employees; evaluated performance of program leaders; tracked and created monthly and annual reports; planned and implemented workshops and programs; managed program budgets; presented program information at orientations, campus events, faculty meetings, and to students in classrooms; created eNewsletters and online program surveys; created marketing materials using Microsoft Word, PowerPoint and Publisher; posted events and announcements on social media; updated content on their website; and created program training manuals.
At Shiloh Treament Center, for 6 years Amy monitored, documented, and managed the well-being and behavior of emotionally disturbed, mentally challenged, and autistic individuals from 3-35 years of age in a residential setting.