Sanctuary Choir
The Apostle Paul instructed the Colossians, "let the word of Christ dwell in you richly: teach and admonish one another in all wisdom; and with gratitude in your hearts sing psalms, hymn, and spiritual songs to God." (Col.3:16-17)
The Sanctuary Choir rehearses on Thursday evenings from 5:00-6:15. Everyone is invited to participate in the choir, whether you are a guest, full-time resident or part-time resident.
Lord of the Mountains is blessed with musically talented members who are integral to our Sunday morning worship services. Over 25 volunteer vocalists sing anthems, hymns and benedictions throughout the year. Both vocal and instrumental soloists and ensembles share their talents and enhance our worship experience.
Singing in the choir is a wonderful way to meet church members and to make good friends, while contributing to Lord of the Mountains and enhancing the worship service for our congregation. It also opens the door to other musical opportunities in Summit County. Director Chris Keelan is a gifted vocalist who leads the choir in presenting a variety of musical selections each Sunday.
Christmas music is happily anticipated at Lord of the Mountains. The choir inspires us with sacred music that includes our Hand Bell Choir and additional instrumental and vocal ensembles.
Bell Choir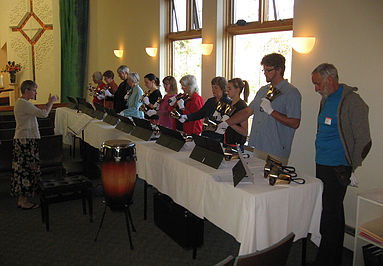 Bell ChoirThe choir rehearses weekly and performs monthly during regular worship services and also on special occasions.
The Bell Choir enriches our worship experience with a variety of musical compositions under the leadership of Christy Reinking. The Bell Choir always welcome new members. It is a wonderful way to participate musically with an enthusiastic and friendly group of people. While a prospective member must be able to read music, prior bell ringing experience is not necessary.
For information about becoming a member or any other questions about the Bell Choir, please contact Christy Reinking through the church office.
Musicians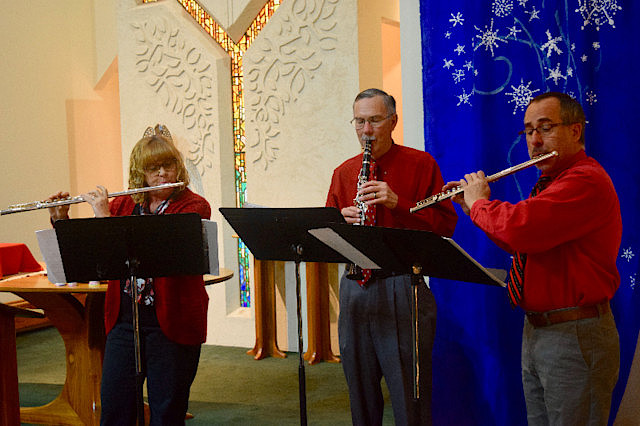 Musicians practicing for Christmas services
Lord of the Mountains is blessed with many talented musicians who share their gifts by occasionally performing alone or accompanying the choir during the service and providing special music.
If you have a musical talent we invite you to join our musicians to enhance the worship service.
Musical Instruments
M. P. Möller Pipe Organ opus 11659
Lord of the Mountains is extremely fortunate to have:
a 1984 Model 200 Bösendorfer piano
three octaves of Schulmerich English handbells
three octaves of Schulmerich tone-chimes
three upright pianos
an M. P. Möller Pipe Organ
Mathias Peter Möller was a prolific American organ builder (having built over 11,000 instruments) whose base of operations was located in Hagerstown, Maryland from 1875 to 1992. Möller organs could be found in thousands of churches of all denominations, schools, concert halls, private residences and movie theaters. The largest Möller church organ (as a single new instrument)
is Opus 11739, installed in Calvary Church in Charlotte, North Carolina.

The instrument at Lord of the Mountains is a variation on the Möller Artiste model, a small organ intended for mass production. In 2010, LOTM had the console rebuilt and a solid-state system installed by Rocky Mountain Pipe Organ Services. The same year, on the recommendation of Leonard Rhodes, a Wicks CM-100 module was installed, extending the tonal breadth of the instrument by more than 150 stops.
Specifications of Organ
Swell Organ (Under Expression)
1. 8' Rohrflöte 80 pipes
2. 8' Gemshorn 80 pipes
3. 8' Gemshorn Celeste 49 pipes
4. 4' Rohrflöte (from #1) 61 notes
5. 4' Gemshorn (from #2) 61 notes
6. 2' Rohrflöte (from #1) 61 notes
7. 1 1/3' Larigot (from #1) 61 notes
8. 1' Sifflöte (from #1) 61 notes
9. 8' Trompette 61 pipes
10. 4' Clarion (from #9) 61 notes
11. Tremolo
12. MIDI 1
13. MIDI 2
Great Organ (Partially borrowed from Swell)
14. 8' Principal 85 pipes
15. 8' Rohrflöte (from #1) 61 notes
16. 8' Gemshorn (from #2) 61 notes
17. 4' Octave (from #14) 61 notes
18. 4' Rohrflöte (from #1) 61 notes
19. 2' Super Octave
20. III-IV Mixture 216 pipes
21. 8' Trompette (from #9) 61 notes
22. Chimes 21 bells
23. Swell to Great
24. MIDI 1
25. MIDI 2
Pedal Organ
26. 32' Resultant (from #27) 32 notes
27. 16' Bourdon 12 pipes
28. 8' Principal (from #14) 32 notes
29. 8' Rohrflöte (from #1) 32 notes
30. 4' Octave (from #14) 32 notes
31. 4' Rohrflöte (from #1) 32 notes
32. III Mixture (from #20) 32 notes
33. 32' Trompette Cornet (from #34) 32 notes
34. 16' Contre Trompette 12 pipes
35. 8' Trompette (from #9) 32 notes
36. 4' Clarion (from #9) 32 notes
37. Great to Pedal
38. Swell to Pedal
39. MIDI