Lord of the Mountains Church began our efforts to reduce gun violence in March of 2014. Since that time, a small task force has worked to build awareness in our church and across Summit County of the epidemic that gun violence has become both in Colorado and in the United States.
Our church joined with Colorado Faith Communities United to Reduce Gun Violence (CFCU) in an effort to find solutions to the epidemic and to encourage lawmakers to enact provisions to protect citizens. On January 31, 2016, our church formally adopted a resolution calling for the right of individuals who own guns to do so legally and responsibly, while at the same time working with gun owners, educators, law enforcement, mental health providers, community leaders and other faith-based organizations to educate the public about the causes of this epidemic, create policy solutions, and reduce the horrific number of deaths and injuries. We are not advocating to restrict the lawful and safe use of guns.
While we should be concerned about all issues of violence, and could address them more broadly in the future, reducing gun violence is something we can do right now. We can work to keep firearms out of the hands of people who, for whatever reason, cannot possess them responsibly. We can work to promote the safe use and storage of existing firearms.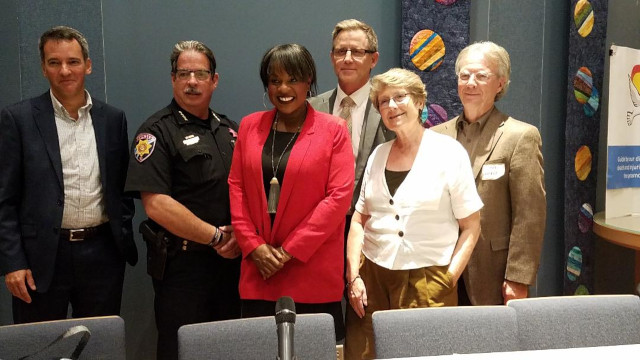 Douglas County Sheriff Spurlock discussed the Red Flag Law or Extreme Protection Order and why it could have saved the life of Deputy Zackari Parrish.At Lord of the Mountains, we believe we have a moral obligation to care for the well being of everyone; therefore, we have a task force focusing on ways to reduce gun violence.
The goals of the Task Force are to:
Faithfully represent Lord of the Mountains by ourselves, or through our relationship with organizations such as Colorado Faith Communities United to End Gun Violence,* when speaking publicly about violence issues, about protecting the innocent, about practices which have been proven to reduce gun violence, or about issues relating to the use or misuse of firearms.
Work alongside the Summit Interfaith Council to help and support efforts towards ending gun violence.
Focus on the public health crisis that gun violence has become and we will always be in contact with the Church Council when planning events or speaking about policy or practice.
Support a Rapid Response Network that informs anyone who asks to be included. We forward emails concerning bills going through congress and provide contacts for our current Colorado congressman in order for you to tell them what you want them to support. Anyone can be on our Rapid Response Network. We have people from different denominations, and even different states, in our email list.
Ask responsible gun owners to join in searching for ways to stop the violence inflicted daily by the misuse of guns. We will not call for collecting guns from, nor prohibiting gun sales to, people who can possess them legally and responsibly.
Over 30,000 people die every year in the U.S. by guns, but instead of the country working to reduce that number, a few special interest groups have turned the issue into a political controversy. To understand the scope of the issue, please read Key Gun Violence Statistics, published by the Brady Campaign to Prevent Gun Violence.
Further, our church is a member of the nationwide Evangelical Lutheran Church in America (ELCA), which issued a message on Community Violence in 1994 (reaffirmed in 2008) that called on the church to "stem the proliferation of guns in our streets, schools and homes," and to "build strong anti-violence coalitions in our neighborhoods and communities.
For more information, please read the following articles:
March 6, 2018, News story on ELCA site "ELCA Conference of Bishops issues statement of support" covering the statement issued by the ELCA following the shooting at Marjory Stoneman Douglas High School in Parkland, Fla.
September 3, 2018, News story from Lutheran World site "ELCA Bishops stand with youth in addressing gun violence and school safety"
November 9, 2018, NPR Story, "Deaths From Gun Violence: How The U.S. Compares With The Rest Of The World."
This organization is a coalition of
"...diverse faith communities committed to building consensus and support…for steps that will turn our collective grief into shared hope. Together, let us join in the efforts to build communities of peace. The purpose of the Coalition is to help decrease the gun deaths and injuries in Colorado caused by the use of firearms."
A Lord of the Mountains representative, usually the Task Force chairperson, attends monthly CFCU meetings and attends workshops they provide. All members of the congregation or any interested person may attend their meetings and workshops, usually free of charge. A recent meeting topic was: A Primer for Gun Safety Voters: Policies and Programs that Can Save Lives. Panelists included Douglas County Sheriff Tony Spurlock and Andrew Romanoff, former Speaker of the House.