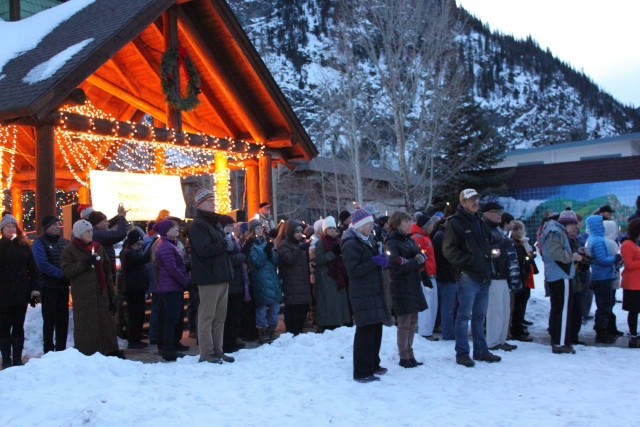 Interfaith Council Participates in Nationwide Annual Vigil Remembering Victims of Gun ViolenceLord of the Mountains is a member of the Summit Colorado Interfaith Council. The Council was founded in the summer of 2015 to promote conversation among the people of Summit County regarding issues that call us to respond to human needs. We emphasize facilitating dialogue, strengthening community, pursuing justice, inspiring action and valuing diversity.
Eight Summit County organizations are members of the Interfaith Council, representing over 3000 people. The Council is an independent organization and welcomes any faith or service organization. Through monthly meetings, the Council provides opportunities to exchange ideas and promote common interests. We offer a number of activities throughout the year and also sponsor impromptu events in response to pressing issues.
For the past three summers, the Interfaith Council brought a series of films to the county to engage the community in thought-provoking discussions. The film topics range from the environment to health care, from bullying to immigration and affordable housing. (See a list of these thought provoking Films 2016-2018.) Each film is followed by a discussion with a panel of people with subject matter expertise. The audience is invited to ask questions.
Each December, the Council joins organizations throughout the United States for a vigil to remember victims of gun violence. In response to tragic events in our country, the Council organized memorial services for the victims of the Tree of Life Synagogue shooting in Pittsburg and the First Baptist Church shooting in Sutherland Springs, Texas.
Other projects supported by the Council (click for a photo gallery of our activities):
"Hate Has No Home Here!" is a national organization that promotes just and inclusive communities. The Council invites Summit County residents to join in this effort.
Community Navigator Training provides FIRC counselors the information they need to assist clients as they obtain driver's licenses for immigrants under the Colorado SB251 Driver's License law.
It's Easy Being Green provided kids' activities benefiting the environment in conjunction with the Interfaith Council's Summer Film Series.
Thanksgiving To Go Bags delivers four hundred bags, containing the necessities for a traditional Thanksgiving feast and a gift card to buy the perishables, to those who in need.
Mental Health First Aid Training was presented to firefighters, police, first responders, nurses, teachers and others who deal with the public. The Council partnered with Building Hope to provide this program.
Member Organizations
Emmanuel Fellowship
Father Dyer United Methodist Church
High Country Unitarian Universalist Fellowship
Lord of the Mountains Lutheran Church
St. John the Baptist Episcopal Church
St. Mary's Catholic Church / Our Lady of Peace Catholic Churches
Synagogue of the Summit
Summit County Senior Citizens, Inc.
Summit Colorado Interfaith Council is a 401(c)(3) charitable organization.
Visit us on Facebook
For more information please email This email address is being protected from spambots. You need JavaScript enabled to view it.