Many wonderful members of our congregation made this Thanksgiving a day to remember for our Day Services clients. Especially due to the harsh impact of Coronavirus on our local economy, there is more opportunity than ever for us to help these wonderful and deserving folks. As you can see, there was food galore, and this picture doesn't even show the dessert table packed with 7 different desserts. Every person came back to fill their plates at least 3 times, and the happy camaraderie as they enjoyed the meal and laughed and talked together just filled us all with such joy.
Members of the congregation donated turkeys, side dishes, desserts, and one couple even gave large tarps to our clients who sleep outside in the cold, to keep them warm and dry. Several of the guys got teary eyed because they were so grateful for this caring gift.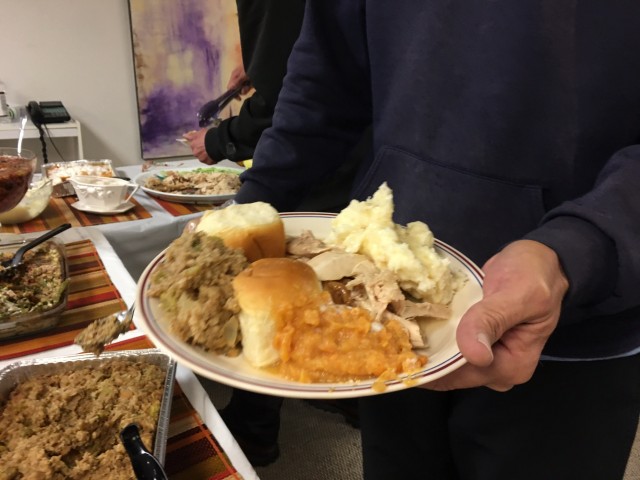 Special thanks to Barry and Carol Rumack for their constant support of this ministry. Barry shows up several times a month like a Good Elf with gifts of new warm clothing, first aid supplies, food, and baby wipes.
This event happened because of the leadership, vision, and kindness of Karen Johns, our Day Services Coordinator. This program embodies our church's mission of inclusivity and respect for everyone. Please contact Karen through the church office if you would like to volunteer with Day Services and/or be part of her friendly and fun LOTM Hospitality Committee.